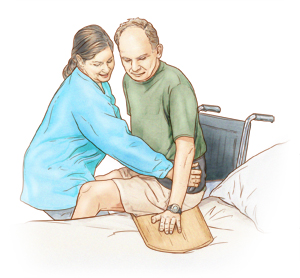 When a patient is admitted in a hospital, there are occasions when they must be transported to another Health Care Facility to provide a continuation of their care. This transport is referred to as a 'patient transfer', since the patient along with their records are transferred from one facility to another. A patient can be transferred for a variety of reasons and the transfer can be for a short or long duration.
Not all hospitals have a full range of diagnostic or treatment equipment and a patient transfer is often arranged to transport a patient from the hospital they are in to another hospital for such medical procedures as CT Scans, MRI's, radiation treatments, dialysis sessions or cardiac diagnostics.
At other times a patient transfer is booked for a patient who has been receiving care at one hospital and requires a patient transfer to another hospital that provides a different level of care. For example, a patient may be admitted to and Orthopaedic Hospital for a knee replacement and following the operation, transferred to a Convalescent Hospital to recuperate and receive physiotherapy. This is a prime example of a patient transfer.
There are a number of companies in the Province referred to as Patient Transfer Services. These companies do nothing more than patient transfers. While AmbuTrans also provides patient transfers, it also a much wider range of medical transportation services. In addition to hospital transfers and transports, AmbuTrans also provides stretcher transportation to or from private residences, nursing homes, fracture clinics, Doctors offices, dialysis units, airport flight boarding, physiotherapy clinics, weddings, funerals, social events and many other locations.